Carts are used to easily move up to four lifted objects with the exception of the Rowboat. A pulled cart will move at crawl speed over Forest Terrains, walk speed over Mudflat, Grassland, Cave, and Mine terrains, and run speed over Paved Ground. If a pulled cart runs into another stationary object, the puller will be released from the cart and will then need to select to pull the cart again. Please note that carts cannot carry individual inventory items unless you put them in a liftable container first, and then load the container into the cart. If you run over a rabbit with a cart it will die and leave no materials.
When the cart is unloaded, the only context option when right clicking the cart is to Pull Cart. Once pulling, your character may leave the cart in one of two ways; run into another object, or right click and choose Leave Cart.
To load the cart, use the Lift skill and lift the object in question and then right click the cart. Your character will walk towards the cart, and you will be given the option to select one of four slots within which to place your lifted object once you reach it. The cart graphic will change to show a covered bundle being hauled around in it to indicate that there is now something inside it. The graphic will not change from the amount of load, just whether it is loaded or unloaded.
To unload a cart, right click the cart while not pulling it and choose Open Cart. The cart's load window open again, and simply left click the slot to transfer from the cart to your Lift skill.
You can also use the cart to kill small animals like a rabbit by driving over them.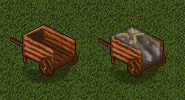 Select the recipe:

B

uild >

C

onstruction >

C

arts & Cogs >

C

art